I haven't made a snippets post since December 16

.

Rick was on vacation for the last part of December and we spent a quiet Christmas at home. Then in January we had the flu--all three of us! After we had (mostly) recovered, my mother came to visit for a couple of days. This past week I've finally felt like we're getting our groove back.
This is Gerrick busy at work in his playroom, where he spends a lot of time building/making/creating. These days that mostly involves LEGO

toys, random materials, and LEGO Club magazines.
He still enjoys spending time with the cats and browsing the LEGO website.
-3-
For Christmas, he got two Wii games--LEGO Lord of the Rings and LEGO Harry Potter. In early January, he bought another with his allowance--LEGO Pirates of the Caribbean. Needless to say, he has spent a lot of evenings and weekends video gaming.
We're keeping the scooter in the car so that we can stop by parks for a quick spin before/after errands.
Gerrick is not one of those kids who runs outside upon waking. In fact, he pretty much never steps foot out of the house unless I

m

ake him (and go with him). Even though he doesn't choose to go outside, he is almost always very happy to be there once he is, and the more time we spend outdoors, the better we both feel. With all the construction going on behind our house (unbearable noise!) and having only one car, getting out has been a chall

e

nge.

We need much more time outdoors!

It is going to require more planning on my part, but this is something I really need to make a priority. I know it is worth

the effort!
-5-
Sometimes he prefers to stand while doing a Teaching Textbooks math lesson. This makes it easier to do a little dance between each problem. I recently stopped making him write his answers in the workbook in addition to entering them on the computer. He's much happier with this arrangement, and I'm shocked at how much more focused he is and how much more quickly he completes the lessons. Putting pencil to paper

was just

redundant drudgery to him apparently. I knew that. But for some reason I had it stuck in my head that it was important for him to write the answers.

Not anymore.
-6-
Sometimes I feel like I don

't

fully express how large a role books play in our family culture. Gerrick has actually only read one book (Viking Adventure) since Christmas (and I assigned it

)

, but we've taken turns reading aloud about biomes and stop

motion animation

, and I've been reading aloud about vikings, too. I've also been reading daily poems, The Long Winter, and, for our family read-aloud,

Harry Potter and t

he Goblet of Fire. I just finished

reading aloud

Seabird and started Minn of the Mississippi. Rick still reads to him every night before bed. They recently enjo

yed

the My Side of the Mountain trilogy and have now started Nanny Piggins. We love books, and Gerrick shows no signs of wanting us to read aloud less

.
Children between six and eight must for the most part have their books read to them (Charlotte Mason

:

Vol. 3, p. 214).
As he is approaching the age of nine, I'm

pondering

this quote as I consider a transition of him reading more for himself (Note I said "pondering"--that doesn't mean I have decided

whether I agree with it or not)

:
It is a delight to older people to read aloud to children, but this should be only an occasional treat and indulgence, allowed before bedtime, for example. We must remember the natural inertness of a child's mind; give him the habit of being read to, and he will steadily shirk the labour of reading for himself; indeed, we all like to be spoon-fed with our intellectual meat, or we should read and think more for ourselves and be less eager to run after lectures (Vol 1, page 228).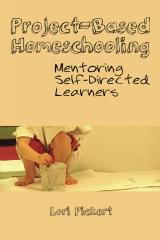 Buy this book. Seriously.
I read my copy a few months ago, then I loaned it out to several friends. Now I have it back and I am going to start reading it again. Over and over and over. Sorry, but no one else is borrowing it. Get your

own copy; you won't regret it.
Allowing children to learn about what interests them is good, but helping them do it in a meaningful, rigorous way is better. Freedom and choice are good, but a life steeped in thinking, learning, and doing is better. It's not enough to say,

"

Go, do whatever you like.

"

To help children become skilled thinkers and learners, to help them become people who make and do, we need a life centered around those experiences. We need to show them how to accomplish the things they want to do. We need to prepare them to make the life they want." — Project-Based Homeschooling: Mentoring Self-Directed Learners
I was lucky enough to land upon Lori's blog in the early days of our homeschooling and have been gleaning great insight there ever since. I love having so many of her great ideas in one handy book!
I recently talked to Gerrick about the idea of projects, and he was thrilled when I suggested we start planning time in some of our days for "project work"--a time when I'm available to help in any way he needs or wants. (Yes, I've generally tried to do this all along, but this is intentional time that he knows he can count on!)
So far he's had me reading aloud with him from Stopmotion Explosion and doing related animation research online. He requested and received the Stopmotion Explosion animation kit for Christmas. Interestingly, he hasn't tried the camera or software yet. But I'm not saying a word about it...just following his lead.