Nature Connections
is a collaborative link collection
posted at the end of each month
on Living and Learning.
Its purpose is to showcase photos of children
enjoying nature to inspire all of us to get outdoors more.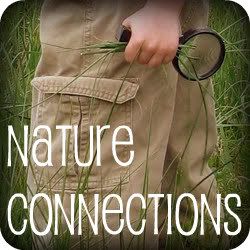 This month we have a special giveaway!
I will randomly draw from all links posted by 7:00 p.m. CST on Tuesday, March 1.
The winner will receive a copy of Clare Walker Leslie's The Nature Connection.
One of Gerrick's most memorable nature connections this month was exploring the entrance to this cave.
What outdoor experiences did your children have during February?
Your link must include photo(s) of child(ren) outdoors in February.
Please adhere to this simple guideline or your link will be deleted.
Consider using
a button
or text link so that your readers will know where to join us.
Leave the direct URL to your post below and please visit other participating blogs.