Last night we received two decks of
Pick and Draw
in the mail courtesy of the game's creator
Rich Davis
. In exchange for our honest review, he sent us one to keep and one to share! Gerrick was excited to try it first thing this morning.
The game comes in a sturdy plastic case and consists of five kinds of cards: face, nose, eyes, mouth, hair.
It's very simple. You pick...
...and draw.
After completing his first character, he said,
"I'm surprised how well I can draw!"
This was music to my ears. He usually has a real perfection issue with never being satisfied with his drawings because they aren't realistic. I think this game can help him see that there are many different ways to draw.
(Later, while I was preparing lunch)
G: What day is it?
Me: Thursday.
G: So tomorrow is Friday. I know what we can do for Family Fun Friday--play Pick and Draw!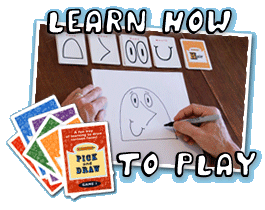 Click on the image above to try it.
You can earn one entry for each of the following;
leave one comment telling me how many entries you get:
Subscribe to Living and Learning (feed, friend connect, or email).
Share this post via facebook.
Share this post via twitter.
Share a link to this post on your own blog.
I will close comments and draw a random winner on Tuesday, Dec.7th,
so if you don't win you'll still have time to
order the game
for Christmas.